Record month for CLSNet: USD100 billion daily notional netted
Article
Article
In August 2022 we saw a record USD100 billion in the average daily notional of net calculations in CLSNet.
The record is supported by a marked increase in adoption from market participants and follows the 179% year-on-year increase in the average daily notional of net calculations in H1 2022.
The increasing number of global and regional banks joining the CLSNet network demonstrates its appeal to market participants exploring ways to mitigate settlement risk, reduce operational costs and optimize liquidity for their post-trade FX trading processes.
CLSNet standardizes and centralizes post-trade processes across the global currency spectrum and as the network continues to grow, users of the service are increasingly benefiting from the expanding roster of netting counterparties. CLSNet also supports FX market participants adherence to the FX Global Code – the industry's global principles of good practice for the FX market.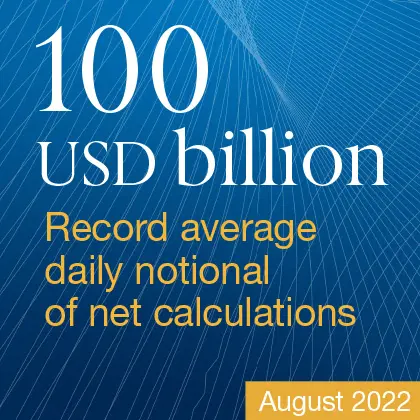 In particular, using the service supports adherence to Principles 35 and 50 as all trade instructions sent to CLSNet are validated and matched up to the pre-determined cut-off times between counterparties for each currency.
We build the community, you join the world's leading banks in FX