CEO Action for Diversity & Inclusion pledge
Press Release
Press Release
CLS has signed up to the CEO Action for Diversity & Inclusion™ pledge, joining over 2,000 business leaders committed to driving policy changes and practices in their organizations that advance diversity and inclusion within the workplace. The pledge outlines a specific set of actions the signatory CEOs will take to cultivate a trusting environment where all ideas are welcomed.
By signing on to this commitment, CLS's CEO, Marc Bayle de Jessé, has pledged that CLS will take action to further cultivate a workplace where diverse perspectives and experiences are welcomed and respected.
Bayle de Jessé commented, "People are our most critical asset. We already promote equality, take active steps to prevent discrimination and provide a supportive and inclusive working environment for our employees. By joining together with other organizations globally through this initiative, we further reinforce our commitment to advancing diversity, equity and inclusion at CLS."
CEO Action for Diversity & Inclusion™ brings together leaders from a cross section of over 2,000 companies across industries and geographies to share best practices and progress on key steps included in the pledge. To learn more visit CEOAction.com. The website serves as a hub for information sharing, idea generation and program development.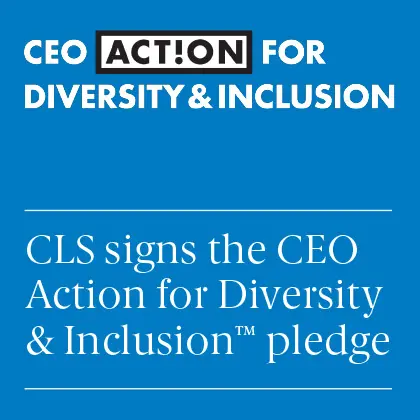 "By joining together with other organizations globally through this initiative, we have further reinforced our commitment to advancing diversity, equity and inclusion at CLS."